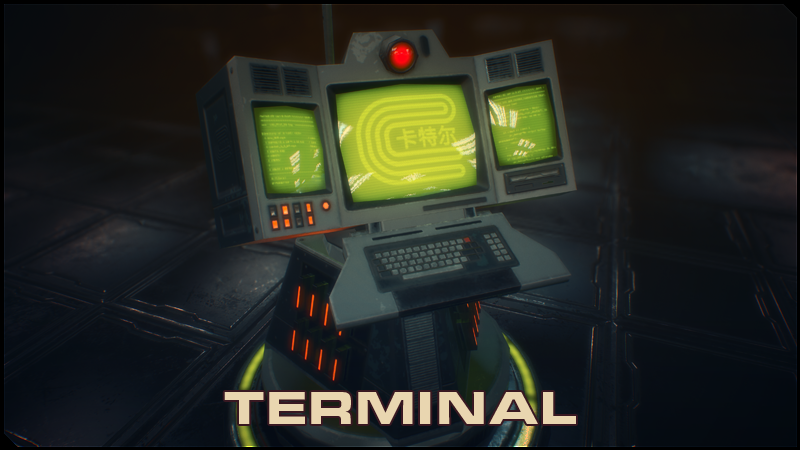 Jupiter Hell 0.9.6 - Terminal!
It's been a bit longer than usual, but we're back to present you a new release of Jupiter Hell - 0.9.6 Terminal! This release features upgraded terminals, enhancements to hacking, stacking elemental damage, 20 new weapon/armor perks, revisited mod pack perk lists and more!


Terminal upgrade

Apart from obvious visual changes, there are also new options, as well as reorganizing old options into modules. You can extract multitools from terminals and stations with charges, but you also can charge terminals with the multitools you have - hence multitools become a universal currency that can be traded for terminal bonuses, health upgrades, mods, ADV equpiment, 'nades or ammo :). You'll also notice that terminals now have more information about their options and the environment. We're also preparing everything for further expansions, expect at least one more top-level module!
Hacking upgrade

Most notably, we added the Broadcast option, with information on currently hacked bots, and the ability to mass send commands. Remote Hack will bring up the Broadcast interface if no valid target for hacking is present. Additionally, we improved the behavior of the current commands like HUNT and WAIT. Finally, and probably the most important QOL change gameplay-wise - you won't accidentally hit your bots, nor will they accidentally hit you! Oh, the glory of IFF protocols :P.
Stacking elemental damage
Fire, Bleed and Poison now stack. Be wary as this is a very double-edged sword! This brings elemental perks, items and skills to a whole new damage potential, and gives more value to protection perks, stims and medkits. Let's just say that after the first iteration, we had to give the Summoner some poison resistance, as he tended to die from just one gas grenade :P.
New perks and mod pack lists
Each of the 3 basic mod packs (power, bulk and accuracy) now has 5 possible perks - to get to the last (usually strongest) perk, you'll need Whizkid 2. We noticed our perk pool was quite weak with some options - especially shotguns, launchers and helmets, so we added 20 (!) new perks to the pools. 18 of those are accessible via standard mod packs.
The new perks have also been added to the ADV weapon/armor/headslot potential roll lists too!
Grenadier
Finally, as this seems to be a release where Technician finally gets some love, we decided to give him a new Grenadier trait as an icing on the cake :).
Minor changes
The FAST keyword on exalted enemies (especially reavers) has been nerfed. Acid and plasma damage won't damage armor as much as it did. Also, grenades will no longer accidentally hit cover right in front of you (sorry Blind!).
Changelog

Beta 0.9.6 - Terminal - December 22, 2020
NEW #1223 - Broadcast (command all) option added to hacking
NEW #1223 - Broadcast and hack UI gives info on current bots
NEW #1223 - Remote Hack will Broadcast if no target
NEW #1220 - you can now mass hack drones at terminals
NEW #1220 - you can initiate purge mode from terminals
NEW #1220 - Recon module in terminals shows exist in branch
NEW #1217 - fire, poison and bleed damage now stacks/degrades!
NEW #1232 - Tech Trait - Grenadier!
NEW #1227 - 20 new weapon/armor/helmet perks!
NEW #1227 - expanded power, bulk and accuracy pack perk lists!
CHANGE #1227 - new perks added to current ADV perk lists
CHANGE #1218 - you can now charge stations with 1 multitool/charge
CHANGE #1218 - you can now extract stimpacks from medical stations
CHANGE #1218 - manufacture stations have more options
CHANGE #1222 - Protocol - HUNT tracking improved
CHANGE #1223 - Protocol - WAIT will not try to chase enemies
CHANGE #1222 - improved pathfinding for enemies
CHANGE #1219 - grenades will no longer hit cover right in front
CHANGE #1224 - hacked bots will no longer hit allies and player
CHANGE #1224 - player will no longer accidentally hit allies
CHANGE #1223 - using a multitool to repair bot fully repairs it
CHANGE #1229 - enemies alerted by sound event will "idle" sound
CHANGE #1217 - acid and plasma will damage armor a little less
CHANGE #1221 - FAST exalted only affects movement speed
CHANGE #1217 - FAST reavers will start to appear 4 levels later
FIX #1223 - Wizard L2 description and summon name fixed
FIX #1217 - fixed negative status lingering after level change
FIX #1217 - fixed min-range coloring

What's next

Next release will be 0.9.7 Expanse, where we will expand the length of the episodes to 7 levels each, add a new tileset, new branches, and overhaul the exotic weapons! The release should be out the 11th or 18th of January - stay tuned!