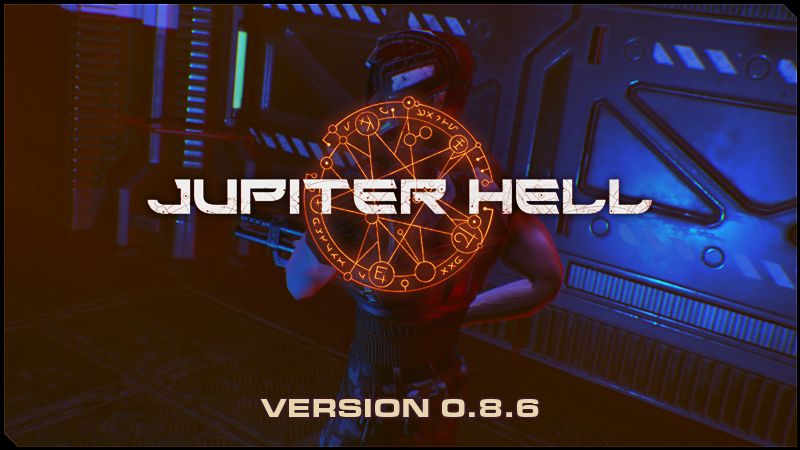 Jupiter Hell 0.8.6 - Fury, Energy, Power!
Last release of the year brings you class-specific resources, new traits, a mod capacity system, a new challenge and more!
Class resources
Each class has now it's own resource - Fury for Marines, Energy for Scouts and Power for Techs. Using a class skill now isn't limited to one use per level, but controlled by usage of this resource. Each class has a different way to replenish that resource - Marine needs kills, Scout opening chests and Tech gathers power dropped by mechanical and semi-mechanical enemies. The cost of class skill usage is lower than the capacity of the resource and you can invest traits in increasing capacity too - possibly having two skill uses back to back! The system will be expanded with additional resource use possibilities and balancing in further updates, so stay tuned!
Sustained Fire and Pinpoint
Speaking of traits, apart from the new resource traits we also removed the overpowered Son of a Bitch, and substituted it with a more proactive trait - Sustained Fire for Marine/Tech and Pinpoint for Scouts - check them out!
Mod capacity and Dismantle
Moding has also gone some changes - now mod capacity is an item trait instead of being controlled by Whizkid. This allows us to balance the capacity by weapon - most of them have capacity of what you'd have at old Whizkid 2, but some have higher capacity. Also ADV weapons may now come with more mod slots! Closing out this change, you might also enjoy the new Tech active skill - Dismantle, that allows you to destroy an item and get one random mod it had back (or more if you're Skilled enough!).
Callisto L1 and New York Reload
To make early game a bit more varied we also added two layouts for Callisto 1. For veterans we added Angel of New York Reload - despite ridiculous rules we checked it's beatable on Easy, no idea if it's beatable on higher levels - if you do, please tell us!
Full Changelog
NEW    #929 - ALL classes have a different class resource - this
              resource is used instead of "once per level" CD
NEW    #929 - Marine has Fury, regeneated by kills
NEW    #929 - Scout has Energy, regeneated by opening chests
NEW    #929 - Tech has Power, regeneated by power orbs
NEW    #929 - Marine gets Furious trait, that increases Fury
NEW    #929 - Tech gets Extra Batteries trait increasing Power
NEW    #925 - max mod amount is controlled by item mod capacity
NEW    #925 - new Technician active class skill - Dismantle!
NEW    #928 - Technician and Marine get Sustained Fire trait!
NEW    #928 - Scout gets Pinpoint trait!
NEW    #906 - two new layouts for Callisto L1
NEW    #927 - Angel of New York!
CHANGE #929 - stimpacks regenerate class resource
CHANGE #929 - removed perks allowing extra class skill use
CHANGE #929 - Ironman and Son of a Bitch traits removed
CHANGE #925 - WhizKid now controls max mod level of the same type
CHANGE #930 - updated MoltenVK, performance gain on MacOS
FIX    #923 - fixed border calculations for atlas packer
FIX    #916 - removed duplicated scissor and viewport setup for shadow pass
FIX    #913 - stabilised Vulkan implementation in terms of ALT+TAB ( fullscreen switching ) and resolution changes
                - added support for suboptimal KHR
                - added support for single, double and tripple buffering 
                - on low end gfx cards single buffering is default 
FIX    #921 - fixed broken status effects on ADV rifles and SMGs
FIX    #167 - fixed a TON of ragdoll issues
FIX    #167 - fixed hit animation issues
FIX    #167 - fixed walk and attack animation timing
FIX    #167 - hit ragdoll wont trigger at low FPS values
FIX    #914 - you can no longer gain aim bonus without a target

Future Updates
The real work that went into this release however is as yet not apparent. We fully rewrote the animation and ragdoll system in preparation for much anticipated future features - Melee and Dualgunner. These two are also essential to bring you the most anticipated feature - Master Traits. Nuff to say that in upcoming updates things will get interesting :). That said, the immedately next update might be more a love letter to the Technician, stay tuned!
Next version should appear somewhere in the middle of January.
Finally, from us at ChaosForge, we wish you a Merry Christmas and a Happy New Year (full of great Jupiter Hell updates :P)!