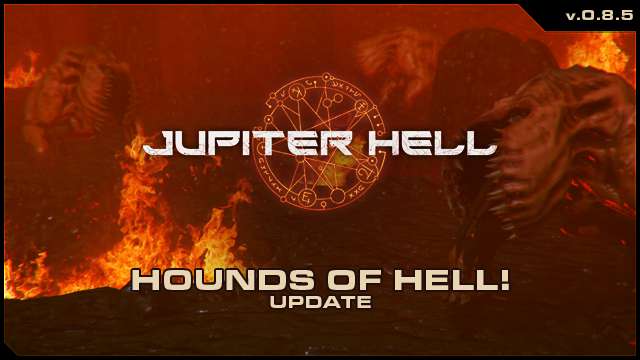 Jupiter Hell 0.8.5 - Hounds of Hell!
Here we are again, a bit late due to conferences and cats, but Hounds of Hell are live!
Kerberos
As the name implies one of the major additions is kerberos - a huge hound-like late game enemy. Don't be deceived - it comes in many variants, and only the basic one is a melee enemy! Apart from elemental versions it also comes with an enrage ability - if you kill it, kill it fast!
Beyond
The second part of this versions name implies a tileset remaster of the Beyond levels - aside from the regular lava/rocks we rock a new basalt-themed visual tileset, especially for beyond. To celebrate, we gave the Summoner boss-fight a significant revamp :).
Perks
While not in the name itself, the third change might be the most significant - and definitely the most fun! We significantly expanded on the weapon perks feature from the previous update, added several new perks and added perks for armor too - among them of special interest are the class perks - which give boosts to your class skills, or an extra charge to your once-per-level ability! Due to the bigger pool every ADV weapon now comes with at least one perk! Moreover, energy weapons (pistols, rifles and shotguns) have their ADV versions added. To not let exotic weapons fall too much behind, we've added a perk to most of them too!
Item drops
Speaking of ADV weapons, we modified the item drop system - item level is now independent of difficulty (and less dependent on where it drops) - however a seperate mechanic controls the drop "tier". Special boxes (magenta) are now tiered - regular ones are Tier 1, vault and exalted drops are now Tier 2, and special levels can have one or more Tier 3 drops. These control mostly the quality of ADV weapons - Tier 3 weapons and armor will have 2 perks guaranteed!
Dodge and traits
Regarding armor it now has a negative dodge modifier - the heavier the armor, the bigger the penalty. Do not worry too much though, as base dodge was increased to compensate, and armor has been made significantly more durable (a common request).
To top off, two new traits are added Dodgemaster for Scout and Incoming! for Marine and Technician, to help with survivability.
Finally
Finally (among a plethora of bugfixes) we added a new challenge - Angel of Doom - let us know what you think about it :).
Full changelog below, we really can't wait for your feedback on this release, be it on the forums or on Discord :D
Happy hunting!
Beta  0.8.5 - November 18
NEW    #867 - new enemy - kerberos! (with several variants)
NEW    #871 - ADV armor now rolls with perks!
NEW    #873 - ADV armor can have class perks (ability modifing)
NEW    #869 - new weapon ADV perks - Frenzy, Vampiric and elemental!
NEW    #869 - new rocket launcher ADV perks - Toxic and Haze
NEW    #869 - ADV energy pistol, rifle and shotgun added
NEW    #868 - ADV tiers - regular t1, vault/exalted t2, special t3
NEW    #880 - new Scout trait - Dodgemaster
NEW    #882 - new Marine/Tech trait - Incoming!
NEW    #866 - new beyond basalt rocks tileset
NEW    #866 - expanded summoner boss-fight
NEW    #797 - Angel of Doom added!
CHANGE #797 - AoSh adds 3xEMP grenade and a special Frenzy trait
CHANGE #883 - most exotic weapons have perks added from the ADV pool
CHANGE #882 - Marine gets Shredder back (experimental)
CHANGE #869 - ADV launchers and shotguns always have perks
CHANGE #876 - armor has dodge penalties, base dodge increased
CHANGE #868 - item drop quality is no longer increased by difficulty
CHANGE #870 - improved armor durability, especially ADV armor 
CHANGE #870 - swapped level 2 guaranteed extra medbox for armor box
CHANGE #872 - increased SHIFT-compare window
CHANGE #872 - increased player info screen size
CHANGE #865 - new, faster and more precise, fire line algorithm
CHANGE #880 - reloader has just 2 levels now (might be removed)
CHANGE #889 - added SHIFT, wait, hunker and aim info to Tutorial
FIX    #872 - armor no longer show description in SHIFT compare
FIX    #870 - toxic enemies no longer take poison damage
FIX    #865 - enemies will no longer waste ammo on 0% shots
FIX    #865 - if you see it you have non-zero chance to hit
FIX    #875 - fixed landing craft - now is cover instead of block
FIX    #888 - CRI phase checks if destination is reachable
FIX    #888 - fix for rare case of player dissapearing after phase
FIX    #890 - fixed chroma effect on Vulkan (now matches OpenGL)
FIX    #885 - potential fix for alt-tab issues

Next version (0.8.6) will be out in 2-3 weeks and will feature terminal/technician changes, telegraphed attack improvements, new content, and hopefully the first effects of the animation system upgrades that we're planning for this period. 'Till next!