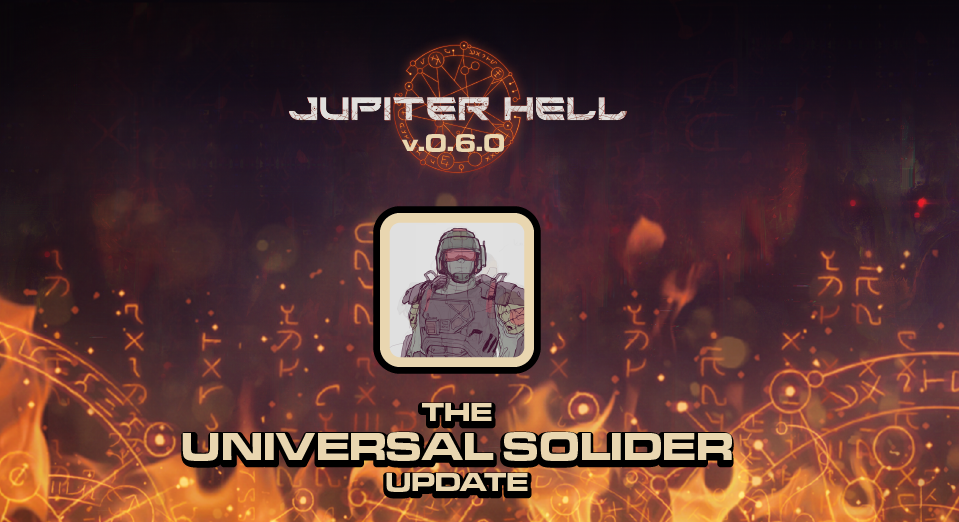 Jupiter Hell 0.6.0 - The Universal Soldier Update
(Re)Boot Camp
Buckle up, Marines. Today we're starting a new cadence of updates that culminates in our Early Access release this summer.

We want to better organize our updates around core features we're implementing, as well as keep our current and future community informed on happenings around the studio, and lastly get more people in the beta for direct feedback for the upcoming release. We're starting today with what we're calling the "Universal Soldier" update, so gear up, read this briefing and get your ass to Jupiter.
The Universal Soldier
We've been listening to feedback and made a major gameplay change for 0.6 - universal weapon slots. Separate slots for sidearms, primary and heavy weapons were needlessly complex and not adding much to the tactical gameplay so as of today, you can carry any weapon in any slot. And yes, this means you can carry three chainguns at a time. We're also adding a trait for Scouts and Technicians to increase the amount of weapon slots available.
Medals, Fixed Exalted Enemies & Gameplay Tweaks
Players of our previous game that start with a D and end with an RL will recognize this next feature - Medals! They are extremely hard to get but you'll now see Medals show up on your death screen in the player data section. Medals are gameplay achievements that you can collect over time, now including real-time tracking for speedrunners. We'll be adding badges and more challenges in the future so stay tuned for more updates.

Additionally, we're doing a little spring cleaning around the games features. We tweaked the level generators for Callisto and Europa with better lootbox and turret placement (check out the new rocket turrets!) as a side-effect. This should also improve the BSP generator to be more common. We also finally fixed exalted enemies to now drop good loot on death - the risk now has a reward!

We made some significant changes are in weapon/ammo balancing:

Revolvers and hunter rifles now use the new .44 ammo. Both got a damage buff and were made common.

Double shotguns and auto shotguns have made more common

Rocket launcher are more viable, as you'll find heavy enemies carrying them

Revolver, hunter rifles, double shotguns and auto shotguns are now carried by enemies and have their advanced variants available
Last, in 0.5 & 0.5.2 we added full-fledged controller support as well as drones and turrets.
PAX
,
Discord & Future Plans
We were at PAX East last month and had a great time showing Jupiter Hell to players from around the world!

We got a lot of valuable feedback as people took the game for a run. Additionally, we got some press thanks to our friends at Hardcore Gamer, Sick Critic and Gaming On Linux:
https://www.hardcoregamer.com/2019/04/17/tactics-and-heavy-weaponry-in-jupiter-hells-roguelike-deathrap/328708/
https://sickcritic.com/2019/03/29/pax-east-2019-jupiter-hell
https://www.gamingonlinux.com/articles/jupiter-hell-the-roguelike-spiritual-successor-to-drl-doomrl-continues-getting-better.14028
Finally, as we mentioned, we're starting the 'road to hell' AKA the road to Early Access. We're going to be doing larger updates and communicating more as we get closer and closer to release.
Another part of this initiative is growing and organizing our community better. Starting soon, we're going to have a promotion on our Discord to get more people into the beta and incentivize you to play more. Stay tuned for more but in the meantime, join the Jupiter Hell Discord server here: https://discord.gg/hmzuPKM
That's it for now, Marines! See you in cosmic space hell.