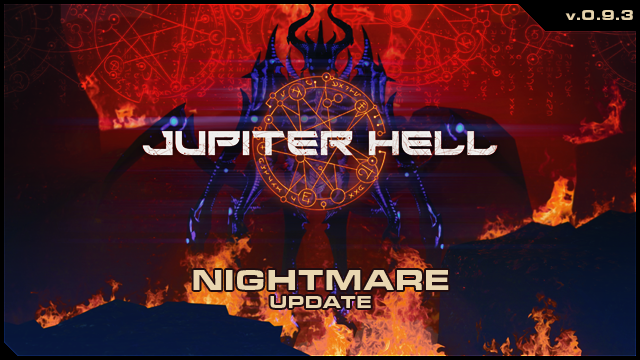 Jupiter Hell 0.9.3 - Nightmare!
It's time to face the ultimate challenge in 0.9.3 Nightmare! Apart from the eponymous difficulty level, we have added Platinum and Diamond level badges, level events, gibbing (fun for everyone, life-saving in Nightmare), ADV AMPs and more - read all about it below!
Nightmare!
The borderline unfair and punishing difficulty level from DRL returns! While the balance is close to UV (and there's no accuracy boost for the enemies), each biological enemy that dies leaves a summoning circle. Leave that circle alone and out of sight for a while, and the enemy will respawn... as a progressively-stronger, exalted variant.
This difficulty is not for the faint of heart, but is beatable. Different tactics need to be applied, gibbing enemies becomes a valuable tool, and exploring all of the map might become a death trap. You've been warned!
Platinum and Diamond badges
To make your Nightmare exploits count, we added a fourth and fifth tier of the badge system. While Platinum badges can be achieved on UV difficulty for some challenges, Diamond is all about Nightmare. Platinum badges are all achievable through careful and masterful play; Diamond ones, however... well, let's say that we're interested ourselves in how many of those are actually achievable! ;)
Gibbing
Borrowing the old Doom term, gibbing might happen when, you deal enough damage in a single attack to overkill an enemy. Depending on how much overkill happens, the gibbing chance goes up (damage equal to twice their health guarantees a gib). To quickly enjoy the lovely visuals, walk up to a former human and sell him a shotgun blast into the face. Note that some weapons (explosive ones and melee) have a hidden factor that makes gibbing easier!
Level events
Probably the most interesting addition for people who're afraid of the Nightmare are level events - modifiers that might happen when entering a regular level. There's currently 8 of them, ranging from simple ones (the level has many more barrels...) to ones that expect you to do something within a turn-based time limit to gain extra experience. Not all events generate on every level branch, and we will be adding more of them in further releases of the game!
ADV AMPs
While the initial idea was to ditch the old AMP system altogether, as the first step we're introducing ADV AMPs with random stats for pistols (inlcluding SMGs), auto weapons (rifles and chainguns), and shotguns. The perk pool for them is currently quite shallow; once we improve on it, we will probably remove the old regular AMPs.
Plasma grenade
The ultimate overkill tool, packing a whopping 200 plasma damage in a single grenade. Useful in Nightmare for gibbing, and in all difficulties for making sure that big dude dies. Don't bother saving them for the summoner though (see below).
UI
The seed line below the level name has been changed. It now states the difficulty (by single letter), the challenge abbreviation (if present), and the general seed of the run. Apart from helping streamers not answer the basic questions each time, it will help us have all the needed information in a screenshot when reporting issues with level generation.
Additionally, as requested, we've added head slot durability to the UI, and removed the armor name, as usually you remember what you're wearing and you can always shift-compare with what's on the ground.
Balance changes
Summoner now has a damage gate - if you deal more than 80 damage before he takes his turn, all further damage is negated until that time. If you're faster than him, you might notice his health turning violet - don't bother shooting him then (later we'll add a nice shield effect once shields are in!).
Barrel damage has been increased - this makes for more gibbing fun, but also might prove fatal if you're not careful!
We've increased the amount of loot, too - common chests always drop at least 3 items, with special tier 1 chests and vaults appearing more often.
Finally some more minor changes and the regular supply of bugfixes which all can be summed up in the full changelog below:
Full changelog
Beta   0.9.3 - Nightmare - September 7, 2020
NEW    #1186 - Nightmare!
NEW    #1156 - Level events! 8 initial events, more to come!
NEW    #1188 - Gibbing! Overkill destroys corpses (useful in N!)
NEW    #1187 - Platinum and Diamond badges - requiring N!/UV 
NEW    #1191 - plasma grenades - when a krak is not enough
NEW    #1192 - ADV AMP's - pistol, auto and shotgun
CHANGE #1194 - HUD - short armor info, added helmet info
CHANGE #1193 - challenge, diff, and world seed under level name
CHANGE #1190 - Summoner damage gate (max 80 damage between turns)
CHANGE #1188 - improved some death animation timing issues
CHANGE #1191 - increased barrel damage values (be careful!)
CHANGE #1191 - ADV helmets always have at least 3 mod capacity
CHANGE #1191 - special tier 1 chests more common
CHANGE #1191 - common chests drop at least 3 items
CHANGE #1191 - increased the frequency of vaults
CHANGE #1156 - player data skill ranks above "Captain"
FIX    #1191 - CAL L1 - removed some "not enough chests" cases
FIX    #1165 - Tyre Outpost headgear now properly AV3
FIX    #1165 - Entrenchment now displays proper resistance values
FIX    #1165 - fixed passing 100% kills for some requirements
What's next?
We're working on a bigger feature, but it's taking more time than anticipated, so in the meantime we'll do a smaller content-focused release next. In hopefully two weeks you'll get 0.9.4 Europa, with various additions to level generation and other new stuff to explore. Until then, try not to fall victim to the Nightmare!